How to Make a Logo Online in Less Than an Hour
How to Make a Logo Online in Less Than an Hour
You've got a great idea for a new product or service and now you need a pro-looking logo to launch. A good logo will help you build trust with customers and helps them connect with what your brand stands for. You'll use your logo everywhere (online and offline) to promote your business, attract customers and differentiate yourself from the competition.
When deciding where to get a logo, without sacrificing creativity and quality, here are two cheap and fast options:
Hire a freelance logo designer (try a site like

DesignCrowd

)
Crowdsourcing a custom logo design from a community of professional designers is faster, cheaper and more creative. Post your design brief on a site like DesignCrowd and in a few days you'll have a custom logo you can start using. You'll get a variety of logo ideas, lots of choice, free revisions and a professional result – a unique logo design you can trademark and use everywhere.
Try an online logo maker (like a website or tool)
A high quality logo maker site like BrandCrowd's logo maker uses clever technology to generate a professional logo from a design library. These logo creation tools can generate designs within minutes that you can download and use that day. In a nutshell, a logo maker makes you the designer and gives you total control of the end result. There's no back and forth with designers to manage revisions. You see the designs before you buy and you don't pay for a design you don't like.
It's important to use a high quality logo maker, not a free one. So called 'free' logo makers will no doubt use clipart libraries and generate low quality logos that anyone can use (like your competitor), look unprofessional and will damage your brand. Practically speaking you also won't easily be able to scale or tweak a low res logo from these sites for your blog or YouTube channel, and forget about the possibility of printing your logo on a business card or t-shirt.
High quality logo makers use a library of logo designs sourced from a community of top designers from around the world. As a result, the library is full of more unique and creative logos that reflects the latest trends. Think minimalist designs, hand-drawn text, monochrome logos and cool negative space logos to ensure you have a choice of thousands of fresh logos to choose from.
Today, I'll show how to use a logo maker website to get a logo in less than an hour. For this tutorial, I am a fictional food blogger reviewing recipes on YouTube
Step 1: Search and discover your new logo (5-15 minutes)
Whether you're a budding photographer, online gamer, YouTube vlogger, Amazon affiliate or any other type of entrepreneur, you'll find hundreds of industry categories and themes to help you discover your logo.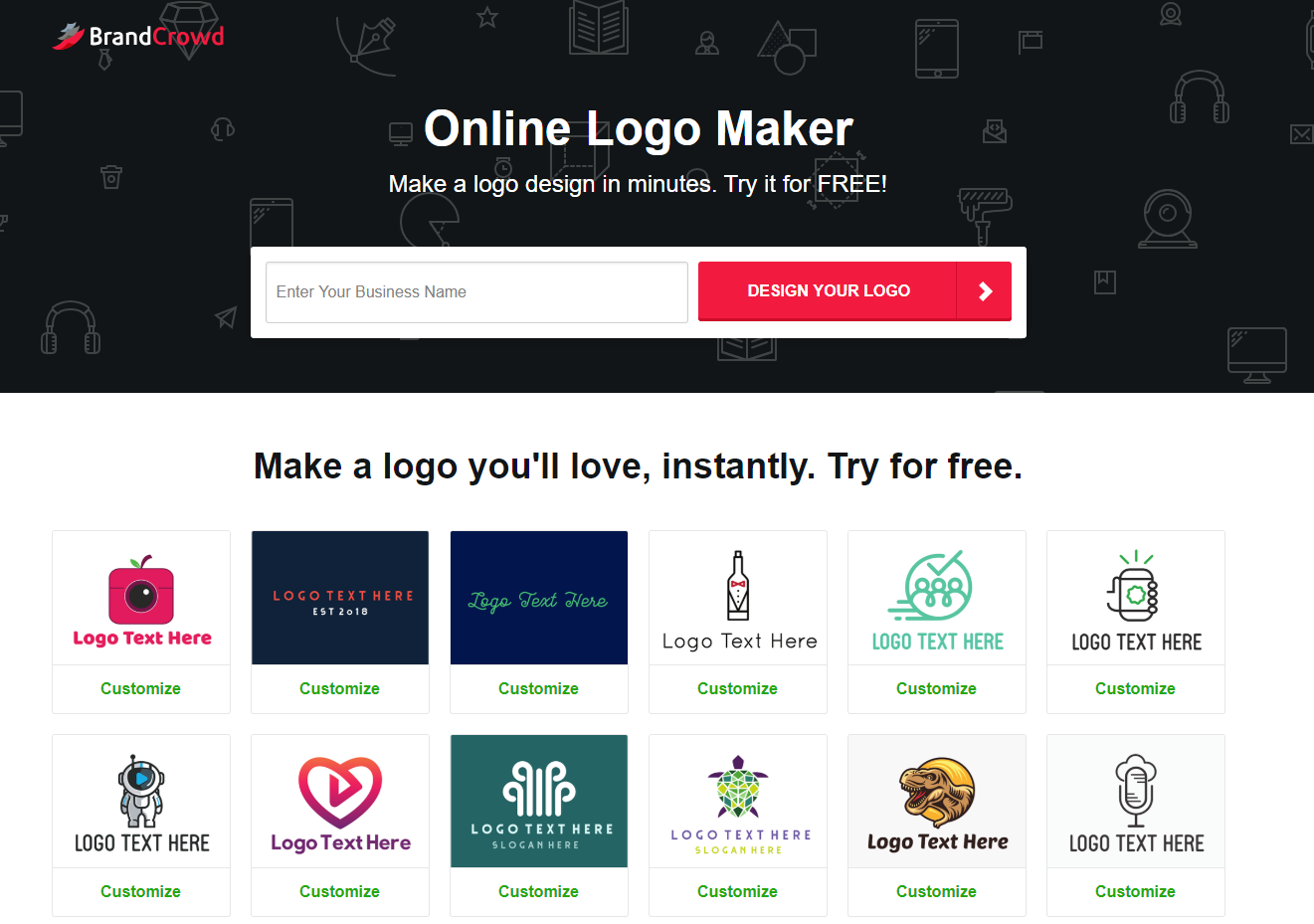 Go to brandcrowd.com/maker and enter your business name.
You can search by industry category e.g. Gaming, YouTube, Sport, Mascot, Cyrptocurrency, Technology to Wedding to design themes like Simple, Text, Green and the logo maker will generate hundreds of logo designs to choose from.
I've entered my business name "Make My Dinner" into the search field. The logo maker instantly starts making logos using my business name.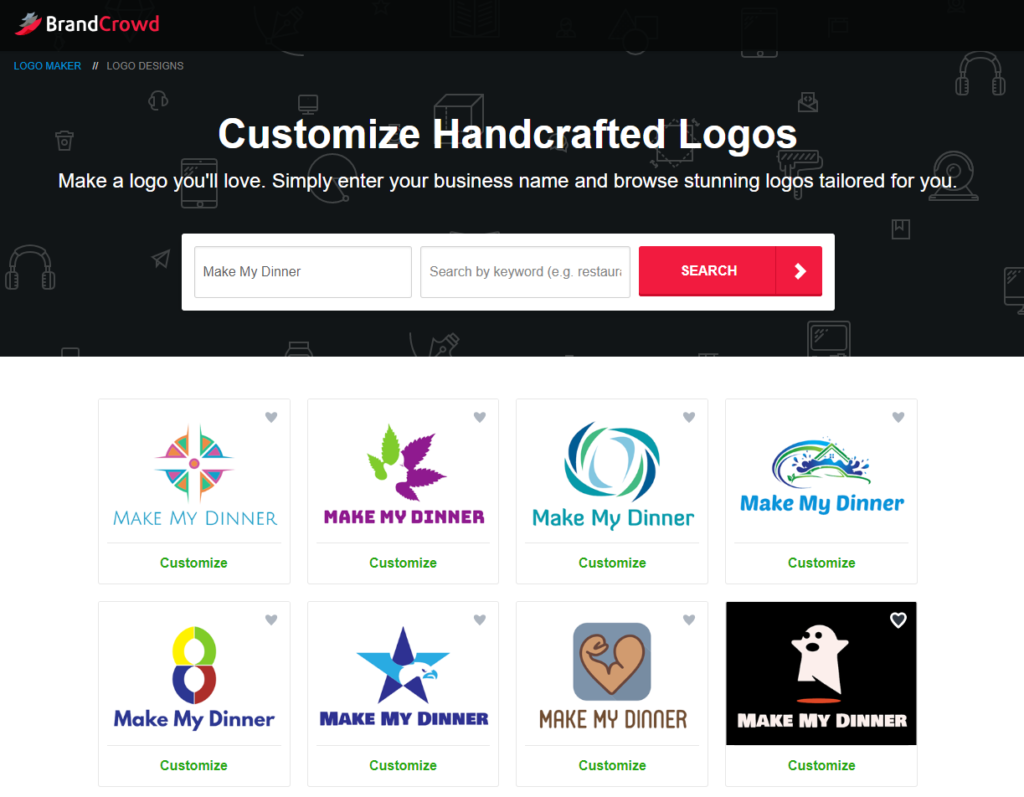 The logo maker instantly generates hundreds of logo ideas.
I want to filter for food related logos, so I enter 'food' into the 'search by keyword' field.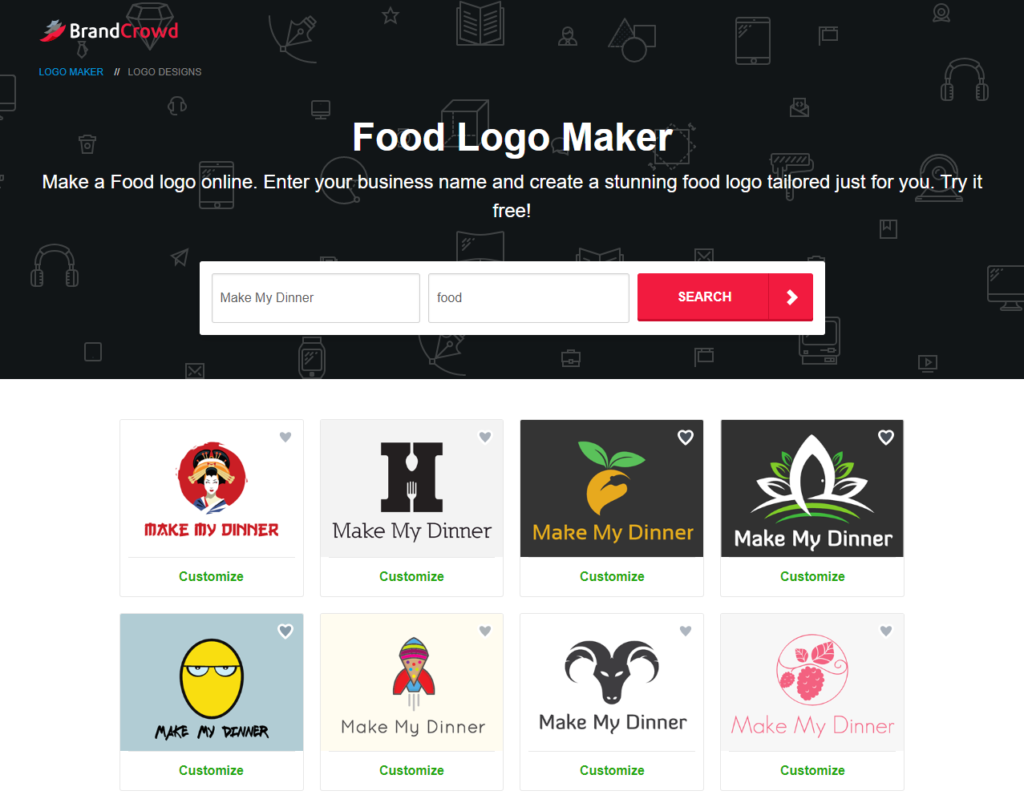 The logo maker shows me 500 food logos. I want a heart shaped logo, so I add some more keywords to my search ("Food, Heart") to surface more designs.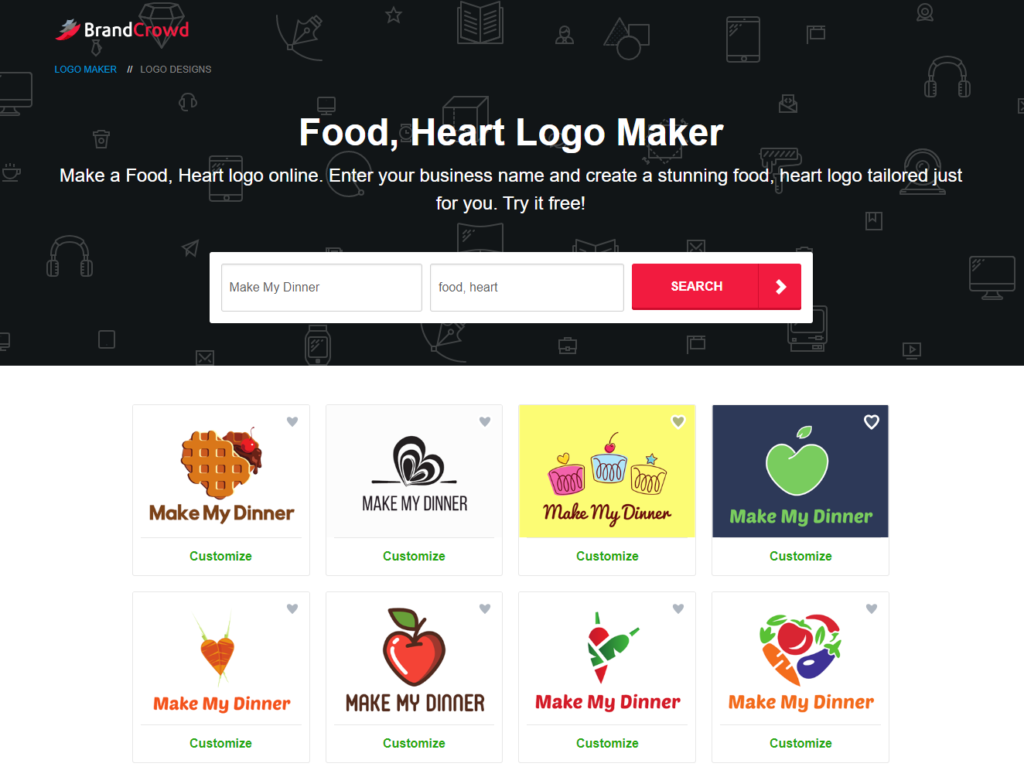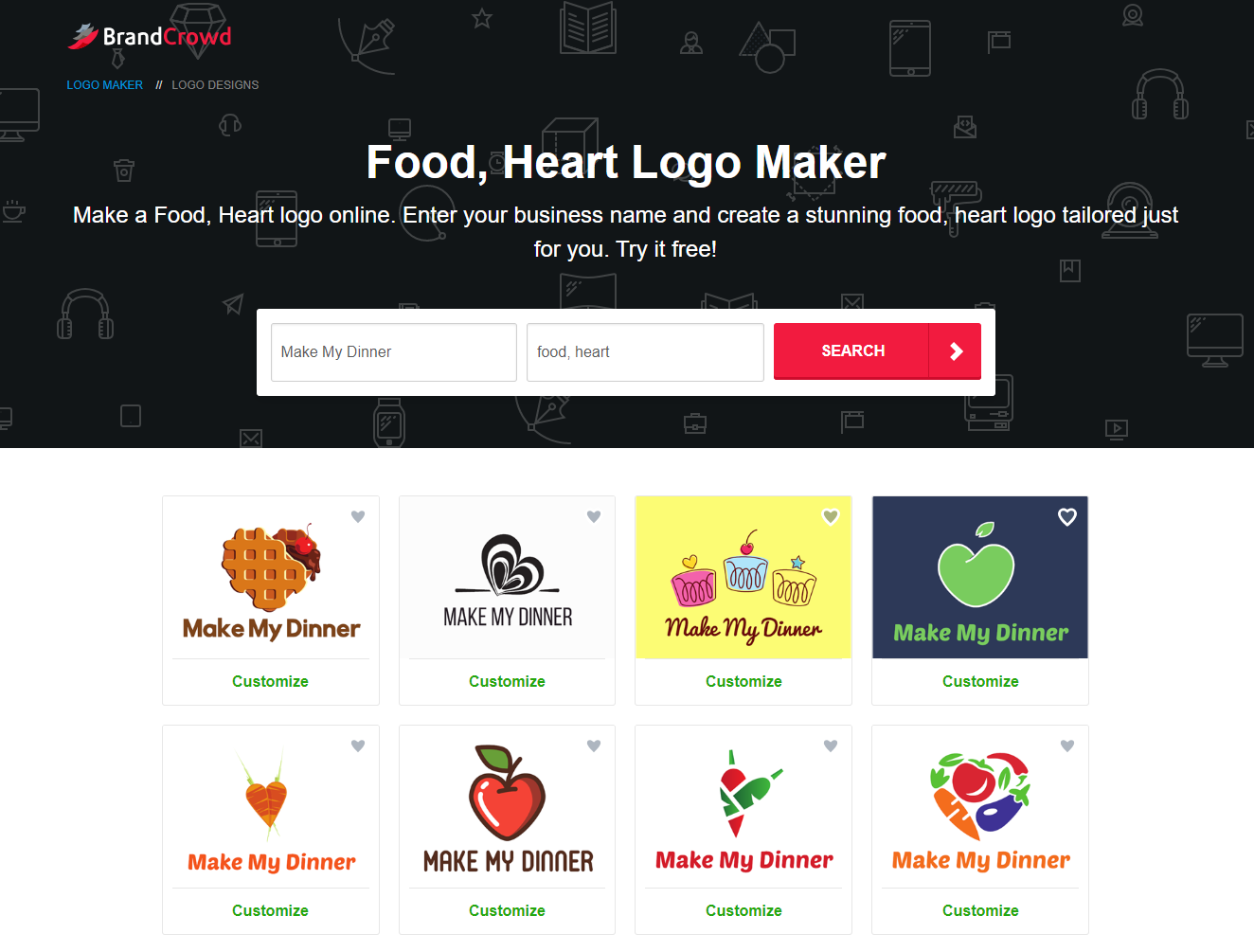 Step 2: Customize your logo (allow up to 30 minutes)
I've picked a heart shaped logo with a play button because I do video reviews.
The maker has cool editing features so I can change the position of the text and tagline in the logo and add a background color if I prefer. I want my logo on a transparent background so I can use it on my food blog, YouTube channel and Instagram.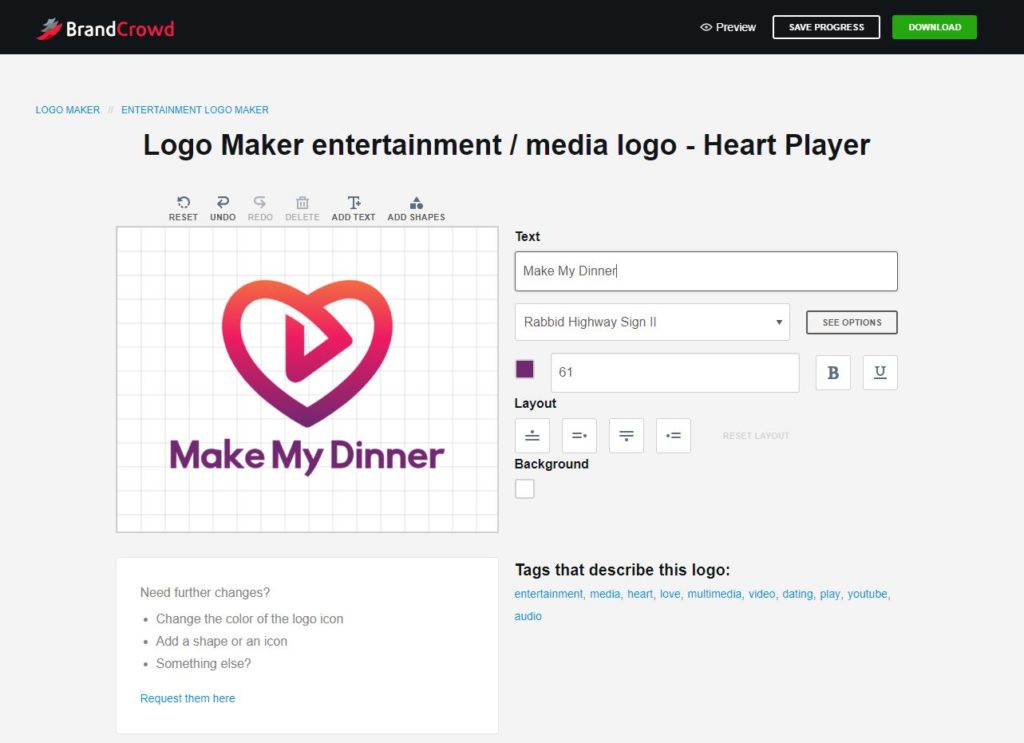 There's heaps of advanced options to customize my logo. I can edit the fonts and colors of the logo using the suggested fonts and colors or pick my own. I like the design the AI has generated but if I wanted to I can add in copyright and trademark symbols and other shapes to the design.
I'm ready to view my design in various formats (on a business card, t-shirt design, website etc). I hit preview to review my design and see it IRL: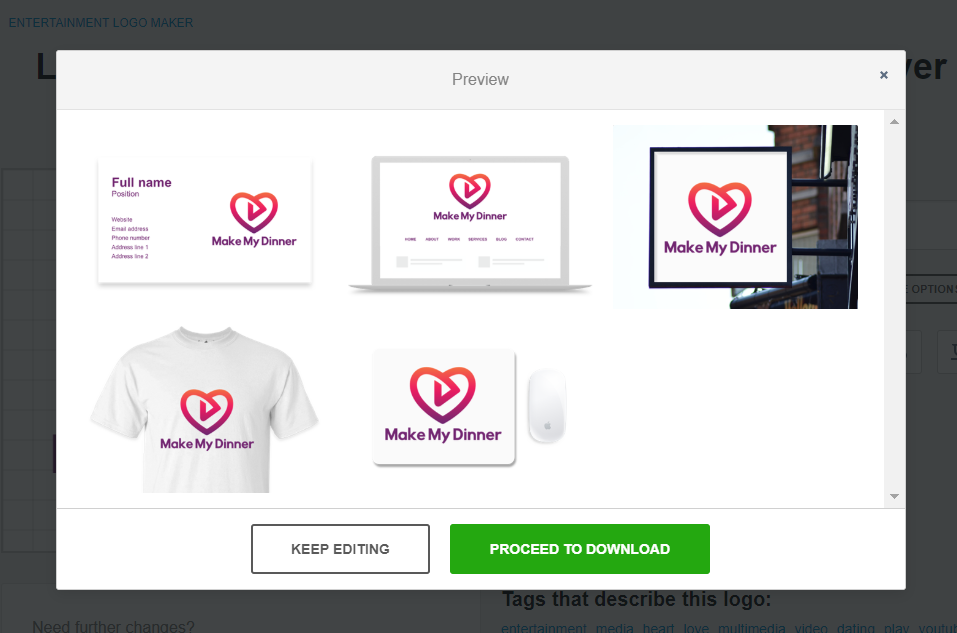 Step 3: Download (takes 2 minutes)
I hit the download button to review my order.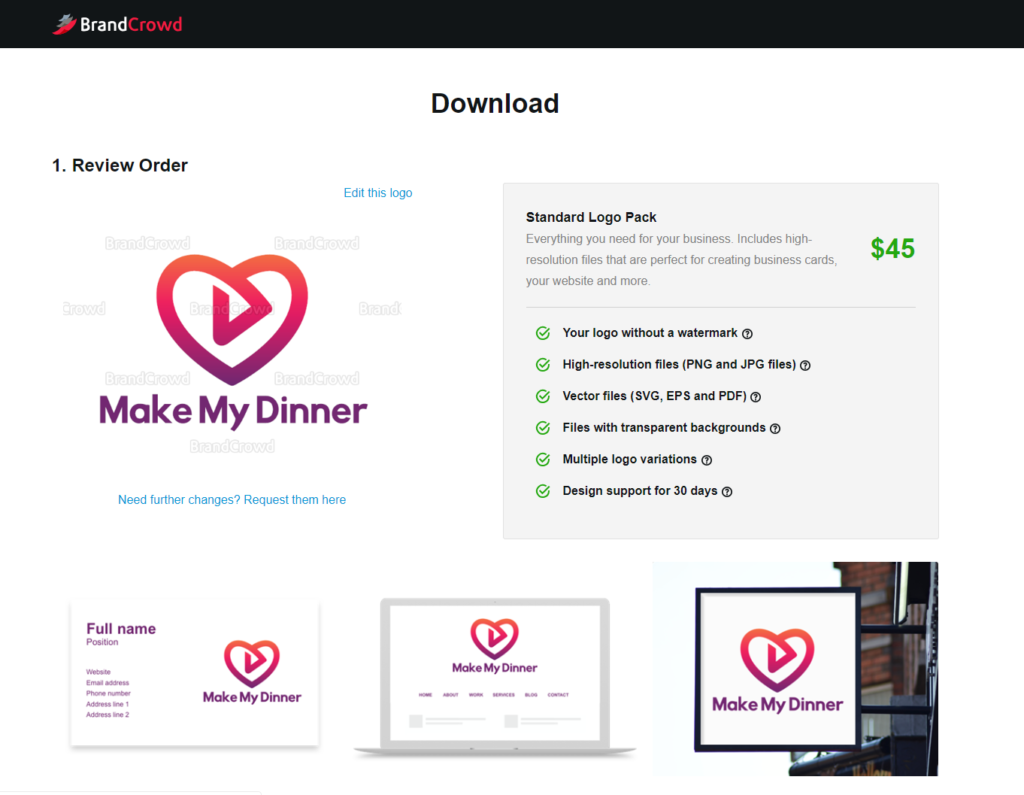 For $45 I get:
My logo without the BrandCrowd watermark

High-resolution files (PNG and JPG files)

Vector files (SVG, EPS and PDF)

Files with transparent backgrounds

Multiple logo variations

Design support for 30 days in case I need anything changed
There are extra options to get a brand identity pack ($29) that includes custom business cards and stationery; or buy a social media pack ($19) to get 20 resized profile pics and social media covers for YouTube, Instagram, Facebook etc.
If you really like the logo you make on BrandCrowd, you can own it and buy the copyright outright ($145).
BrandCrowd accepts PayPal and all major credit cards.
Want to see the editing features in action? Here's a demo video of the BrandCrowd logo maker in action:
https://www.youtube.com/watch?v=pkN1cBELIQg
In less than an hour I've made my own logo and have started using it. Boom!