How To Do Local SEO For 2016
In this vlog I decided to break down what it takes to do local SEO in 2016. Specifically nearing the end of 2016. I was inspired to put this one together, because I just felt like there was a lot of confusion in our space about what it really takes to rank a local business in Google. I've been receiving a lot of support tickets and emails lately asking me what is the correct way to pull this off. So here it is.
[vcex_divider color="#dddddd" width="100%" height="1px" margin_top="20″ margin_bottom="20″]
The first thing you need to realize with local SEO is that everything starts with the website. Here's what I mean. You need to have your keywords in the right places, make sure they have variations that are bolded, italicized, in the H1 tags, etc. Don't worry if you don't know what that means yet, I'll be breaking that down in my next vlog, but for now just make note of it. I realize this might sound confusing if you're new at this, but trust me it's very easy once you've done it a couple of times.
Some other on page factors you might want to consider which is currently helping in 2016 for local SEO is schema mark-up. Now I'm not saying that this is necessarily required, but it can make things easier for you later on if you have this in place. Another thing that falls into that realm of things is great content. Think about it this way. At the end of the day Google's job is to ultimately end the search for the visitor. So if they land on your site and get exactly what they are looking for, Google has done their job. If you are the site that helps them accomplish that goal, they will reward you for it. Sometimes this can be a challenge when doing SEO for local businesses, because you want great content, but you also want to make sure you're going to have something that converts visitors into customers.
Another website trick you can do is focus on your sites structure. For example somewhere in one article you can place one of your keywords which links to another page on your site that talks about that keyword. What this does essentially is interlinks the site together. You may have heard the word "SILO" structure be thrown around. That's exactly what people mean when they talk about SILOing a website. You are essentially linking one page to the next. Of course there are good and bad ways to do this, which I'll probably break down in a future video for you.
If you're working with a local business owner that has a location you should be placing that information on the website. Specifically the business name, address and phone number. We abbreviate this "NAP" in the industry and also refer to it as a "citation." When you place this not only on the website, but also on local directory sites like Yelp, Angie's List or Hot Frog you create more authority and trust around your brand. This signals to Google that you are a real legitimate company that will most likely help their customers get exactly the service they are looking for. But you should beware, make sure that your "NAP" is consistent throughout EVERY single site or you may do more harm than good.
I want to also bring up social proof. This is accomplished in a few different ways and it's important to implement all of them. First is the Google My Business page. Get it setup with the proper "NAP" and start driving reviews to it. If you're doing client SEO come up with a good strategy to teach them how to get their customers to do this. Also important is setting up social profiles on sites like Facebook, Twitter, Etc. and getting reviews to those and also your local directory sites is very powerful as well.
The last thing I want to share with you about ranking is link building otherwise referred to as backlinks. One powerful thing about local SEO is that Google basically considers a citation like a backlink, but it's also important to get backlinks from other sites as well. Here's an example: If CNN were to write up an article about you and at the end they said go learn more information about XYZ and they link back to your site, that is considered a point for you. Google LOVES seeing stuff like this coming from high authority sites.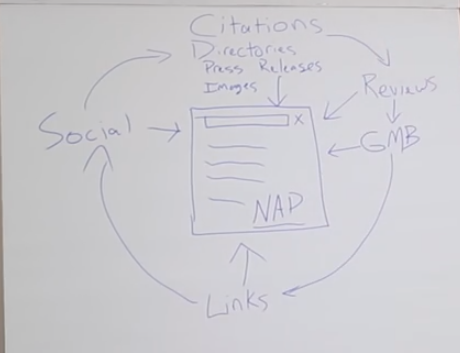 I want to attach an image from the video to show you this stuff visually. This is what I consider the 2016 local SEO ecosystem where everything fits together with one another in perfect harmony. You can't do one thing without affecting the other. Everything is working together and growing massively! So happy SEO'ing and stay tuned for the next vlog.
[vcex_button url="https://www.youtube.com/c/iampauljames?sub_confirmation=1″ title="SUBSCRIBE on YOUTUBE" style="graphical" align="center" color="black" size="small" target="self" rel="none"]Subscribe on YouTube[/vcex_button]
By subscribing to me on YouTube it shows me that you enjoy my content and it also gets me super excited to continue sharing stuff with you!