Welcome, everyone!
Today, I am going to be talking about how to make money online fast. Everyone loves making quick, easy money – and that's exactly what I am going to show you how to do in today's blog post.
These are some ideas that are actually working for me that I personally use in my day to day business, and I want to share these ideas with you to help you profit off of the same ideas.
Here's the best part: You can do this without having to be an expert, and without any sort of

up front

investment.

Basically, we are going to be discussing backlinking without backlinks.

You can land many different types of clients where you can make various amounts of money from them. When you get clients results, they will be willing to pay you nearly anything.

Remember this: nobody was born with the knowledge of how to do anything. Everything we do in life (unless it's basic human nature, of course) must be learned. With that being said, I want you to take what I teach you today and apply it by putting it to work. E-mail, call, or go in person to businesses and offer to take on their marketing aspects. If you want, take them on for free to use them as a 'guinea pig' of sorts. I did this in the beginning, and it's exciting to see the reality of the fact that it works comes to life.
Here's How to Get Started
The strategy we are focusing on today is backlinks without backlinking., Basically, you will end up getting a business owner ranked in the 'three pack'; some of you might know it as 'Google My Business' or 'Google Maps'. Whatever you might know it as, it's effective and it works. The higher a business shows in Google results, the more business they will get. If they're getting big business thanks to your efforts, the business owner will have absolutely no problem paying you whatever you want to continue getting them these results.
Take a look at the call volume I'm showing you here in this screenshot: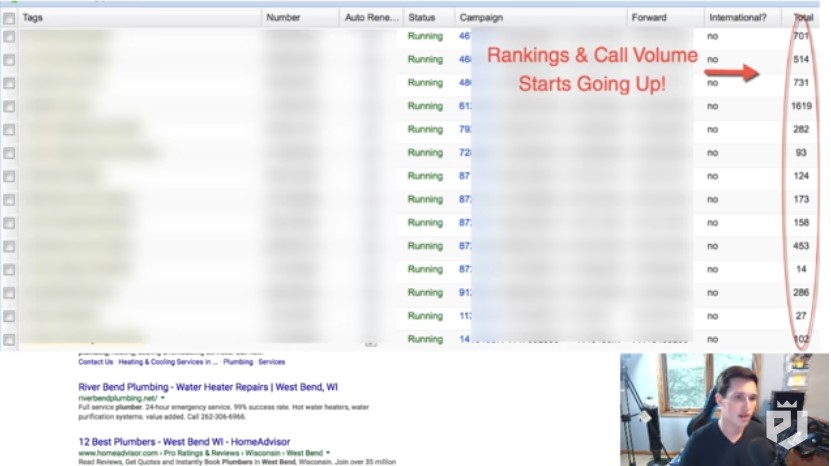 How Does it Work? Why is it Effective?
You may have heard of backlinks before. If you haven't, they're basically when another website directs traffic to your website. As an example, let's say CNN writes a blog post about Bob's Plumbing. They include a link at the end of the blog post saying, "Check out Bob's plumbing" and direct traffic to the Bob's Plumbing website. Google considers that like a vote. This brings your rank up on Google. It's pretty similar when you see your business listing in the 3 pack or map pack on Google. You can make this happen by listing the name, address, and phone number in online advertising spaces, such as Yelp, Yellow Pages (YP), Angie's List, Facebook, and more. After a couple of weeks, the rankings will go up for the business, and the business will see a huge uptick in business, phone calls, and their listing.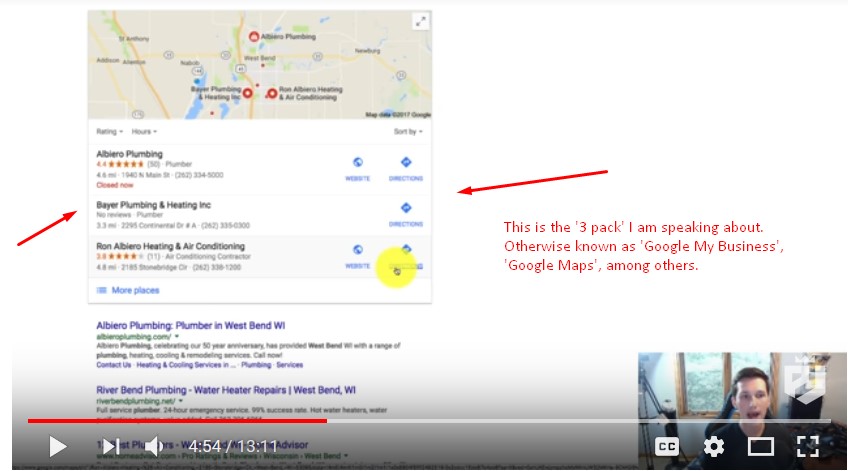 I use a great website known as Moz, which allows you to search for a business type, let's say, as an example, plumber and the location nearest you and it will tell you the best places for listings to go after. It gives you the top citation sources per niche per city. It literally takes the guess work out of where you should post a listing for you. You go through the list and ensure you post a listing with the name, address, phone number of the business you are working with which over the course of a couple weeks, again, will bump the business up in Google rankings.
You can also check and see what your competition in your area is doing by using a nifty little tool caled WhiteSpark. It does cost money, so if you are just starting out and aren't too sure about it, or if you're on a budget, skip it for now. But what it does, is e-mail you in about 60 seconds with results of what those in your area are posting for citations in different niches.
One of the most important things I can mention about getting your businesses to rank in Google is this: be sure you post the listing exactly as you see it listed on Google. When you see a company listed as 'LLC', be sure you put LLC and not write out the words Limited Liability Company. The same things goes for apartment or suite numbers. If it says #A, be sure you leave the listing as #A and not 'number A'. Keep everything exactly as you see it on Google.
It's so simple, anybody could do it. All you need is what I am telling you here today, and you can take the information and actually go out and find a client to begin working for today, and begin making money and getting them amazing results. That's why I said it's so simple, and you just don't need any specific experience or skills, but just the know how of what I've given you today. You can do this. You can make this work for you, and for your client.
There is money to be made through this platform, and it's yours if you want it. It just takes some dedication, dedication, and motivation.
Other helpful links:
My FREE Masterclass on how I land these types of clients
Subscribe to my YouTube, if you haven't already!
[vcex_button url="https://www.youtube.com/user/iampauljames?sub_confirmation=1″ title="Click Here" style="graphical" align="center" color="black" size="small" target="self" rel="none"]Subscribe To My YouTube Channel Here[/vcex_button]
Follow me on Social Media: