Hey everyone, welcome to my blog and I'm so excited to have you here with me today.
Today, I am going to be talking about how you can make $500- $1,000 today online. This method is great for anybody – especially for those beginners who have never made money online, or for those who are looking to make more than they currently are online – or for anybody who wants to make a side income.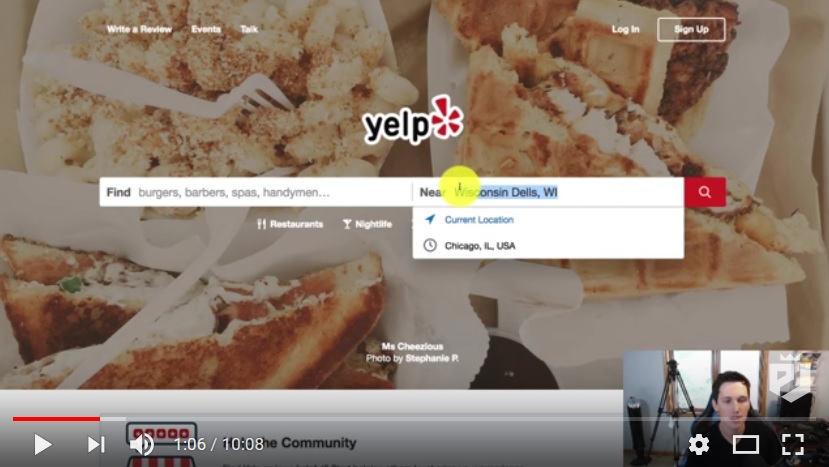 Today, we are going to be using Yelp.com and choose an industry. I personally like to use the restaurant industry a lot for this method. You are then going to select a type of restaurant – I chose pizza as an example. What you want to do is look for businesses that don't have the greatest ratings, and grab one of those reviews and show it to the business owner via e-mail, and ask them if they are aware this review exists and if they've seen it, and let them know that if they'd like to make this review go away, then all they have to do is give you a call. Leave your phone number and your name, and wait for the call.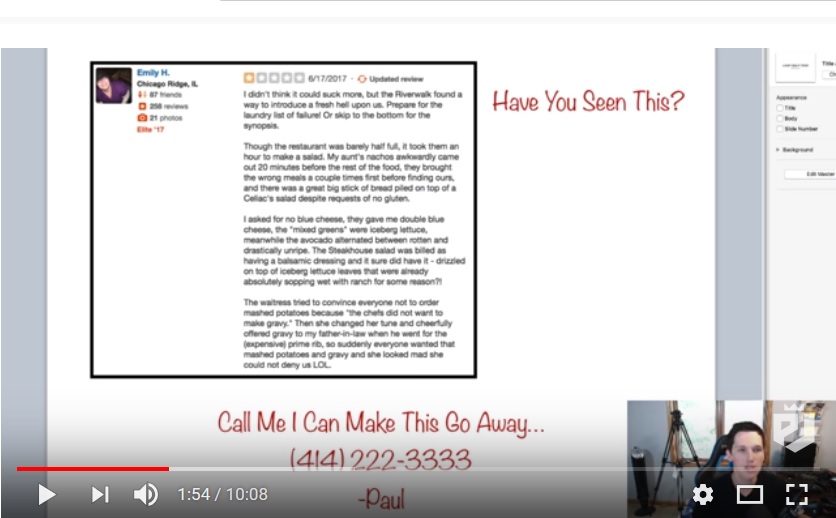 Now, the goal of this 'removal' process is to 'flush out' the review, not actually remove it. In reality, we would all expect that a business might have some bad reviews, and so this looks legitimate. What the process actually entails is to get the clients' customers to leave a great review because they had a great experience. When these great reviews come pouring in, the bad review is pushed to the way bottom of the listing, and therefore, becomes 'flushed out' in positive reviews – and the business owner's page gains in ranking as a result. You can charge your client anywhere from $500 -$1,000 per month for this service. They will be willing to pay once they understand the severity of bad reviews and what it can do for their business.
How do you accomplish these good ratings? Well, there are a couple ways.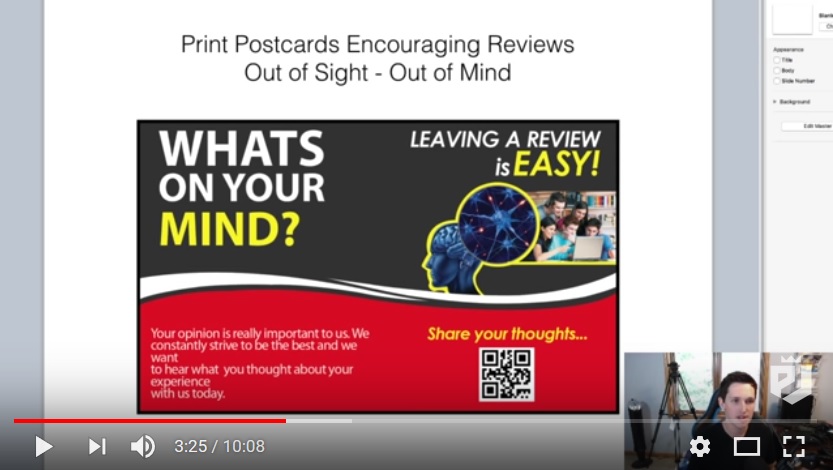 You can have the business owner hand out postcards that you will have made for them, encouraging good reviews for the business if they are pleased with their service. If not, they can have an outlet to leave a negative experience – but that outlet is not going to be via Yelp or the company page; rather, the negative comments or feedback will be filtered and sent directly to e-mail where it can be dealt with discreetly between management and customer. This works as a win win for both the business owner and the customer, as the customer just wants to be heard – and being that they are sending an e-mail, they are able to do just that. The business owner doesn't have to worry about negative reviews impacting their ranking or rating any longer.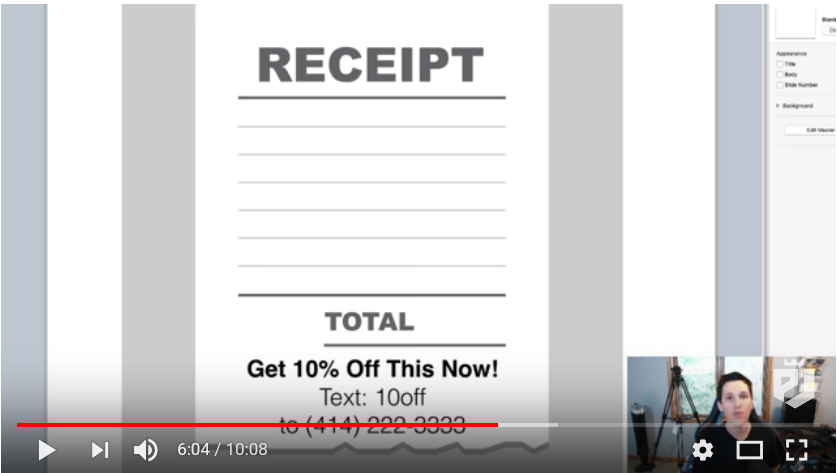 Another method to this is to have the business owner print something on the receipt that encourages the review – or you could also have business cards made for them that they can pass out with QR codes directing the customer to the review page, making it easy for everyone.
The next thing you need to do is pre-qualify the reviews.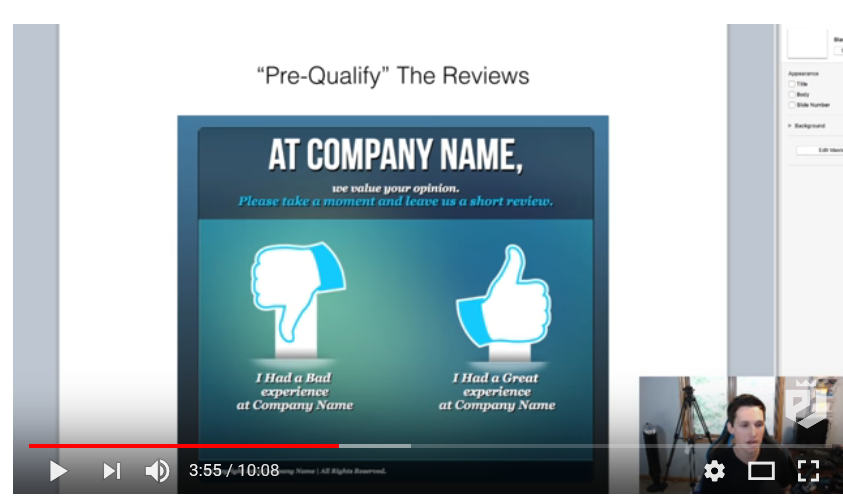 You want to set up a one page website where the customer can choose either a thumbs up or a thumbs down for whatever type of experience they had. From there, if they hit the thumbs up button, you will direct the customer directly to Yelp to leave a great review. If its a bad review or thumbs down, the customer has a chance to leave their feedback directly to the company e-mail where the business owner can make it right.
The problem with this method is that it's a bit difficult to get people to scan QR codes.
The solution is text message marketing. We are always texting. If you could set up text message marketing where the customer is offered some kind of a discount for signing up for text messages, you are 90% more likely to get some sort of a review out of having them click on a simple link rather than getting them to scan a QR code or worse yet, manually enter in a link.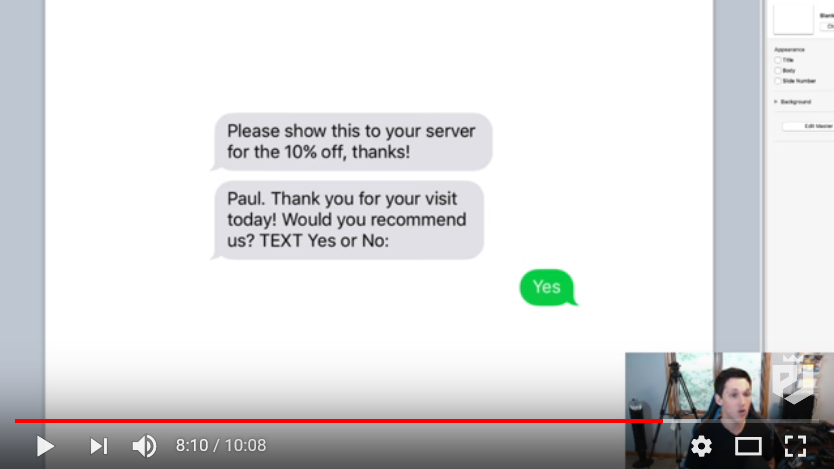 Imagine this: You go out to eat, and once you are presented with your receipt to pay the bill, the receipt could contain a simple message at the bottom of the receipt that says something like:
"Get 10% off this check NOW! Text 10OFF to (414)  222-3333"
Or, you could still utilize the postcard option by creating something that says something similar, as you can see in the picture below.
How do you set this up? Well, that's fairly simple.
You buy a phone number – which, by the way, is extremely cheap – I'm talking like, $1 – and hand that phone number to your client.Set up a keyword like "10OFF", and also give that to your client. Have your client put that 10OFF code on the bottom of their receipts as well. You will set up a script on the text messaging discount to deliver the discount. From there, wait 5-30 minutes after the customer receives the discount, and then you will send them a link to a review portal where they will leave their good review. It's known as the law of reciprocity; when someone does something nice for you, you want to do something to help them out.
You could also have something set up that asks the customer 'Did you enjoy your meal today? Respond YES or NO". If they respond yes, ask them what they liked most about their experience. After they respond, thank them for their kind words and ask them if they would kindly post what they had to say by copy/pasting that to whatever portal needs help, whether its Yelp, Google, or whatever. Direct them there to leave a review with a link to the review page, and you're all set. If they answer NO, they did not have a good experience, ask them why and forward that information to the business owner so that they can make it right.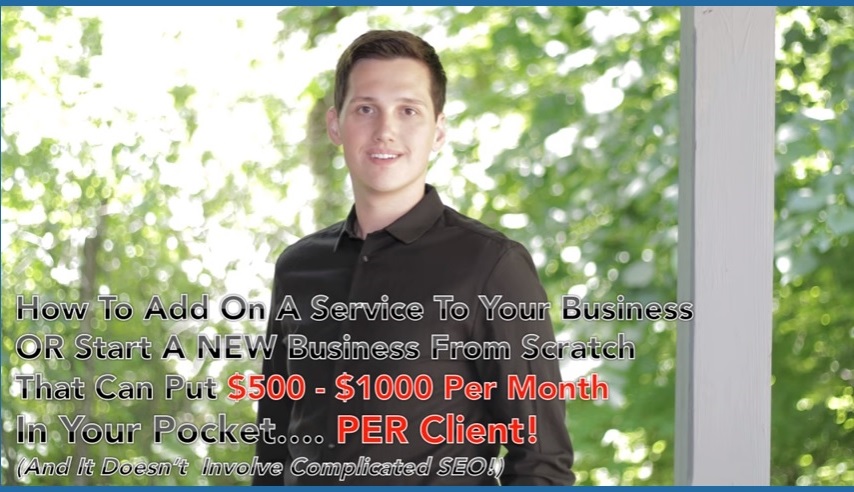 You're probably wondering how in the world you would set something like this up. Well, I have created a tutorial video here on how-to create a completely automated system with SMS which allows you the freedom to live your life and take care of business so that you aren't sitting there texting customers all day long. Nobody has time for that. My method works great for me, and I'm sure it will work great for you, too.
I appreciate you taking the time to visit my blog today, and if you haven't yet, please do feel free to subscribe to my YouTube channel, where I provide daily inspiration, tips and tricks on how you can harness the power of the internet to work for you and make money today.
Access The Free Tutorial Here: https://www.pauljames.com/smstutorial
[vcex_button url="https://www.youtube.com/user/iampauljames?sub_confirmation=1″ title="Click Here" style="graphical" align="center" color="black" size="small" target="self" rel="none"]Subscribe To My YouTube Channel Here[/vcex_button]