Are you a kid who loves making money? Do you want to make $100 or more per day?
Today, I've got some interesting information that you can put to use to put the internet to work for you and help you make more than the average spending money or chore money. Imagine really being able to make $100 per day, every single day. That's $700 per week! That's more than some adults make on a paycheck every week. Talk about incredible. Is it really possible?
The answer is yes!
So, how do I get started?
Basically, how this works, is you will need to utilize the power of YouTube. I know most of you are very familiar with YouTube and you've probably used it more than a time or two to watch your favorite music videos, or to look up funny videos or gaming hacks. But, did you know that YouTube is a huge search engine, just like Google or Yahoo?
To use YouTube to make money, you are going to make videos based around some of the most popular people on Youtube – known as 'YouTubers'. You will need to look for someone on YouTube who is known to be a huge influencer or one of the 'Viral YouTubers'. You can look under 'What's Trending', which will show you some of the most popular YouTubers out there.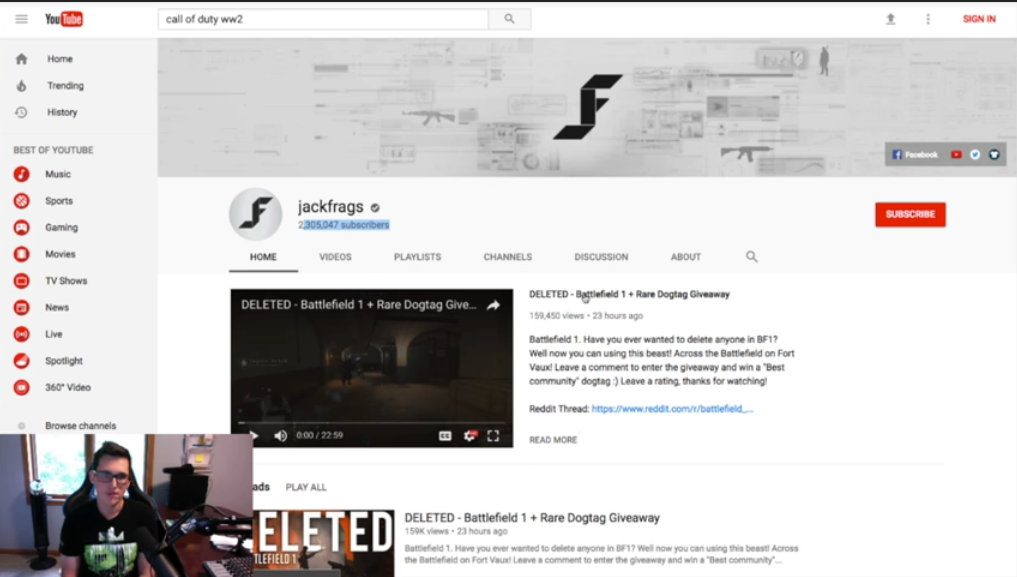 For example – if you want to start a Call of Duty channel, you could look up Call of Duty WWII and you can find the biggest YouTubers with the most subscribers who you can create contact based around that film Call of Duty videos.
As an example, you can create a video like, "Top 5 Facts You Didn't Know About Jack Frags" (Jack Frags is one of the biggest YouTubers in gaming with millions of subscribers). Since people love him, people who look up his name are going to see your video, which in turn will get them to subscribe to your channel because it's based around the same niche or genre. Also, there is content on your channel based around one of their favorite YouTubers. This will help you build a large audience quickly. Your video will also be recommended to them on the right hand side of the screen.
What do I need to base my videos off of?
You want to find people to base your videos around who have millions of subscribers. If a person doesn't have millions of subscribers, you won't have an easy time getting as many subscribers and you'll pretty much be wasting your time – so be sure to base content around major YouTubers. Also, choosing someone who is 'celebrity status' on YouTube will allow you to create lots of cool videos with pictures and things of these people, which will draw more and more subscribers to your channel.
As a note, you also want to be sure you are saying good things about them, not negative because that will attract the wrong kinds of attention towards your channel – and you won't gain subscribers that way. Haters never win, kids.
If I was wanting to take YouTube seriously, I would be shooting videos every single day – so that's a good idea for those of you who want to really get popular on YouTube and make some good money. YouTube isn't my number one source of income, though – but if it was, staying consistent with posting videos is the best way to make money. So, take it seriously and post often!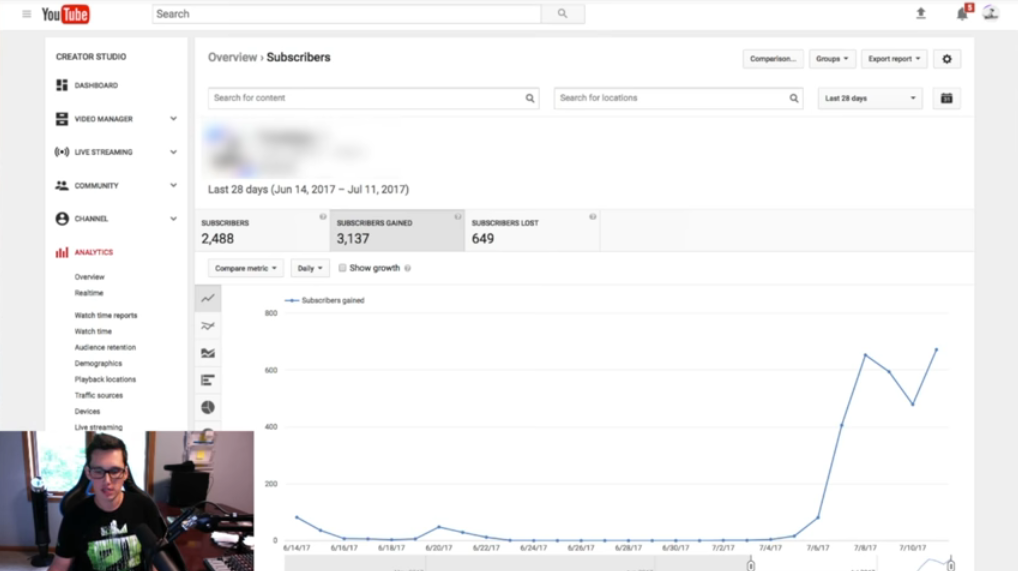 As an example, I created a brand new YouTube channel that's completely different from anything else I usually post. The reason why I did this was because I wanted to enter into a new market. Even if you're thinking about starting a new YouTube channel, this is a great way to get new traffic and pull in new subscribers.
If you look at my analytics, you can see the rise and fall of my subscribers on my channel. I started noticing a trend after posting a new video that I was getting more and more subscribers. I gained 3,137 subscribers and lost 649 due to the fact that my channel took a new turn with the videos I began posting. People who subscribed at the beginning unsubscribed when I began taking my videos in a different direction and vice versa. The power of this is incredible, and it really works.
Let's say you want to showcase the top 10 kills Jack Frags has on YouTube. You can create an awesome video showcasing his kills, but you can also utilize the power of Amazon Associates.
What is Amazon Associates?
Well, it's an affiliate program run by Amazon.com. You will make sales through their program, and as you make more and more sales, you will make more and more commission. You would promote products pertaining to your audience. If you wanted to promote gaming, think about promoting microphones and chairs and such.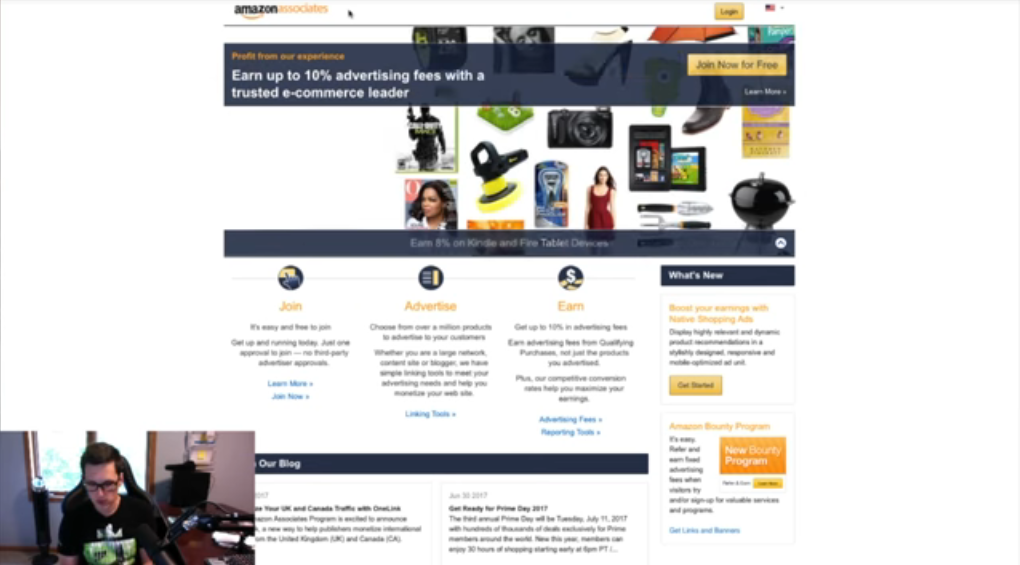 What you want to do now is join the Amazon Associates program. When you join, you will look for products to include within your videos promotionally – for instance, you can say, "I'm using a blue snowball microphone and the quality is really great!", and include a link down in your description area where people can purchase the product – but the coolest part is, that link will come from your Amazon Associates account and will link back to your page, so when they click on the link and make a purchase, you will get a commission off of each product you have linked to and sold. As time goes on and as you make more sales, you're going to notice you are making more money. This is how you can make up to $100 per day.
Simple, easy and effective.
Eventually, you will be approached by companies who would like for you to promote their products within a video – and they might even pay you alongside giving you these cool new products for free. That will probably occur later on down the road, though, once you've developed a really great fan base and have gotten lots of views.
But, for now, Amazon Associates is your best bet.
I hope this was helpful for you – and if you wouldn't mind and you aren't already subscribed to my YouTube Channel, please go ahead and do so so that you won't miss out on any of my videos and exclusive video content and live streams.
[vcex_button url="https://www.youtube.com/user/iampauljames?sub_confirmation=1″ title="Click Here" style="graphical" align="left" color="black" size="small" target="self" rel="none"]Subscribe To My YouTube Channel Here[/vcex_button]